6 Ways to Enjoy Your Monterey 360SC
Sun, Apr 19, 2015 at 3:40PM
---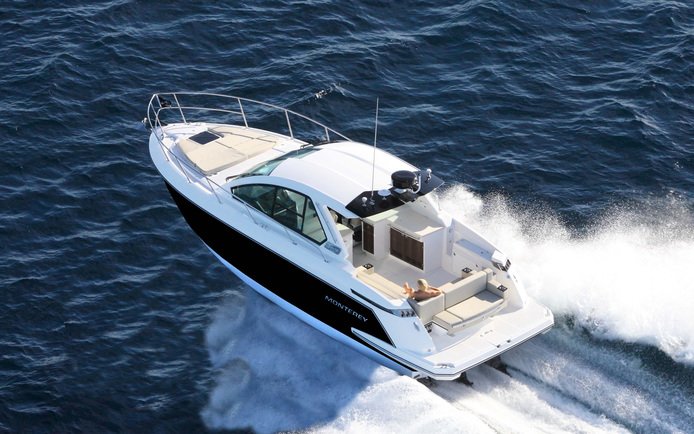 You may have recently heard about our success with our 360 Sport Coupe (360SC)—our presales exceeded our expectations, showing just how much our customers want a dependable (and versatile) coupe to take trips on and entertain. That's great news for us… and for our readers and customers! To show our appreciation, we have compiled a short list of the things you can do with a Monterey 360SC of your own this coming spring and summer.
Throw a party. Few boats are as perfect for parties and entertaining as our 360SC. Whether you want to throw an on-board party, are going boatgating, or just want a relaxing vessel on which you can get away with family and friends, the coupe offers deck space and seating perfect for any occasion. Bring along a picnic basket full of your favorite foods and drinks and your boat will become the new hang-out spot! Not to mention that our 360SC has TWO refrigerator and plenty of ice storage! That's great news for those who want to get away from their backyard or balcony patio this spring and summer.
Explore uncharted territory. Of course, it doesn't technically have to be uncharted… just new to you! Pick a new place to visit every month and see where the coupe can take you—it can be a local treasure or far-away spot.
Celebrate something. You're probably used to heading to a nice lunch or dinner for every birthday, anniversary, or graduation in your family—but celebrating on your coupe can bring a whole new level of fun and excitement to your special days!
Arrive to lunch in style. Even if you're just using your boat for transportation, your coupe can make the "way there" all the more enthralling. Next time you're invited to a lunch by the beach, see if it's possible to dock in front of or nearby the restaurant—you might be surprised at the presence of devout boaters in your area who think along the same lines!
Go fishing. It is one of the most simple pastimes offered to us—so don't feel the need to overcomplicate fishing! Use your spacious coupe deck space to spread out your supplies and offer up some more leg room for the often time-consuming process of reeling in the big fish.
Take a vacation. Everyone deserves a vacation now and then! Even if it seems out of reach, your family's most memorable trip could be right around the corner, at the nearest lake, river or ocean. Go exploring, try a body of water you've never been on, and bring back souvenirs in the form of seashells, sand dollars and keepsake photos—it's sometimes the simplest trips that prove the most meaningful!
Our 360SC is one way to have fun, but go ahead and browse through our other models. You'll never be bored on a Monterey, coupe or not! Visit our models page to find the Monterey you've been dreaming of.
---
Bookmark & Share
---
User Comments
Be the first to comment on this post below!