5 Easter Activities To Enjoy On Your Monterey Boat
Tue, Mar 16, 2021 at 10:55PM
---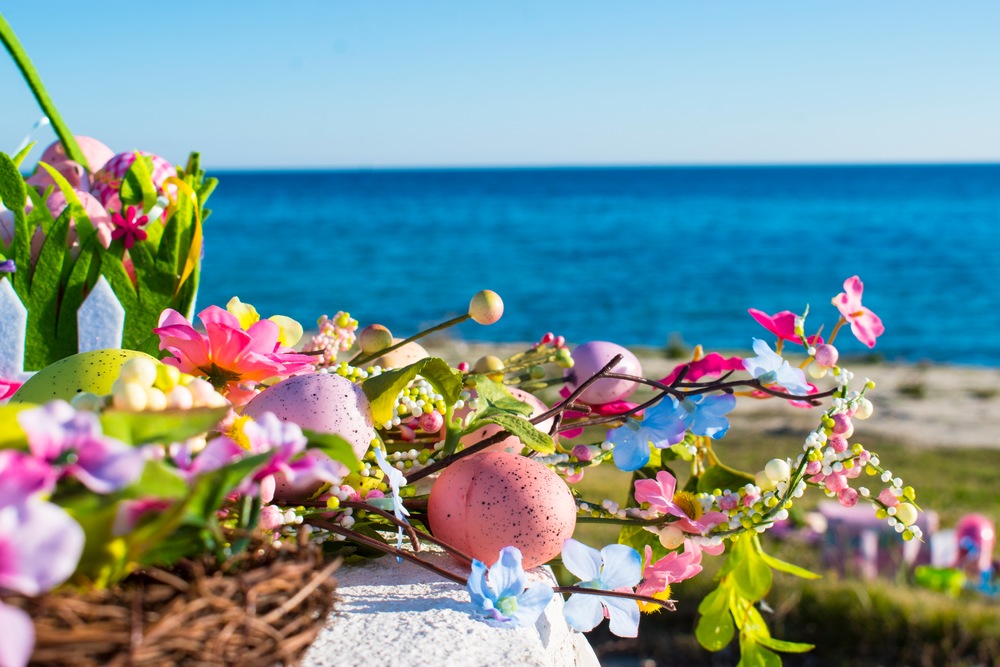 Easter is right around the corner! Whether you celebrate every year, or are simply looking for a fun way to enjoy a sunny spring weekend, we have you covered. Here are five activities the whole family will enjoy from the comfort of your Monterey.
Have an aquatic Easter egg hunt
What better way to celebrate warm spring air and family fun than with a classic outdoor egg hunt? While you can easily enjoy this activity right in your own backyard, we Monterey boaters naturally like to take it up a notch with a by-the-water hunt. If you have access to a remote outdoor space, you can hide your own eggs (papier-mache or wood eggs are more eco-friendly than plastic, just in case any get lost along the way). Or, you can turn your hunt into a game of cruising "I Spy," and simply designate colorful points of interest – from a pretty lighthouse to waterfront home, buoy or other landmark – for your family to find. And of course, you might even decide to hide eggs around your very own Monterey! The fun part here is that your boat is filled with hiding spots, from cupholders to built-in storage throughout, so you and your fellow egg hunters can enjoy a truly adventurous search.
Take a virtual excursion to Easter Island
A trip to the actual Easter Island might be a tall order for most boaters (the nearest continent is more than 2,000 miles away!), but a virtual excursion might be just what you need this upcoming holiday weekend! Your adventurous, ever-curious family will love learning about the enigmatic Easter Island – where towering, humanlike monolith statues stand over the stunning island environment. Some experts estimate the statues to be nearly 1,000 years old! Though the mysterious statues seem daunting to build and move (and some have even gone so far as to suggest aliens were involved in their creation), the simpler – but not at all less impressive – story is that the figures were built by the local Rapa Nui people, who likely intended for them to represent important ancestors (hence why the faces generally look inland toward the rest of the island, because they're looking out for its inhabitants). A number of famous explorers have ventured to the remote island, including James Cook – who, famously, was the first European ever recorded to make contact with Australia's East Coast and the islands of Hawaii.
Of course, even if you can't visit Easter Island, you can still have fun learning about the far-off island or even crafting your own Easter Island-inspired sand "statues" at the beach!
Enjoy a splashy Sunday brunch
In our book, there is nothing better than life's simple pleasures, such as a beautiful brunch by the water! Celebrate the special weekend with a family brunch, paired with refreshing OJ and delicious desserts as you dine dockside or picnic at your favorite beach or waterfront park. Depending on your unique Monterey, you might even have everything you need to cook up a delicious brunch (bacon, eggs, and all) right on board. Either way, the comfy environment of your boat – filled with plenty of built-in seating options for the whole crew to kick back and relax – is sure to serve as a lovely backdrop for holiday fun.
Gift a nautical Easter basket
If you are someone who loves putting time into creating colorful, overstuffed Easter baskets for your loved ones, why not add some nautical flair for a festive touch? Opt for eggs and a basket in beautiful blue hues (green paper grass can serve as "seagrass" for a fun thematic touch), and fill the basket up with red candy fish, fish-shaped crackers, and other nautical touches the recipient is sure to love and appreciate. You can also include practical additions for a day of cruising, like a new, personalized towel or beach games for the little ones.
Switch up your egg-dyeing routine
As we all know, it is tradition for families who celebrate Easter to dye eggs in playful, pastel colors. Why not add fun designs like anchors and starfish for a marine spin on this sweet activity? And actually… who says you have to be limited to eggs alone in the first place? This can also be a fun time to dye or paint old seashells you've collected for a special holiday keepsake you and your fellow artists will remember forever. And of course, if you're spending the holiday by the beach, you might even be able to craft intricately patterned, sand "Easter eggs" right on the shore!
We hope that these ideas help you enjoy a very happy holiday weekend from your Monterey boat! And here's to fun, splashing cruising adventures all spring and summer long.
---
Bookmark & Share
---
User Comments
Be the first to comment on this post below!