The Bass Harbour Head Lighthouse
Sat, Feb 08, 2014 at 12:00AM
---
Today's blog brings us to the Acadia National Park in Maine. The park is home to the Bass Harbor Head Light, which was constructed in 1858 for $5,000! Congress built the lighthouse to guide ships through the heavy fog that masked the entrance to Bass Harbor. A few portions of the original structure are no longer standing. Keep reading today's blog to find out what pieces are missing!
In 1876 the United States government added a tower and fog bell to the Bass Harbor Lighthouse. Unfortunately due to erosion and other natural elements, neither the tower or fog bell are still standing. The new fog bell was 4000 pounds, much larger than the original bell! Lighthouse engineers added on the the lighthouse again in 1900, this time a 10-foot extension to the keeper's house. The final additions to the lighthouse were an oil storage house on the northwest side of the lighthouse and a fourth order Fresnel lens. Both additions were made in 1902. The Bass Harbor Lighthouse was added to the National Register of Historic Places in January 1988. The lighthouse was listed under the name, Bass Harbor Head Light Station.
The closest tourists can get to the Bass Harbor Head Light Station is the bell and light. Both are accessible by a concrete path. A member of the United States Coast Guard uses the keeper's residence as their private home. Most of the lighthouse grounds are gated and private for the family living there. However there is a gorgeous path around the house and down a wooden path through the granite boulders that overlook the house. Several breathtaking pictures of the lighthouse can be captured here. The lighthouse is open from 9 AM to sunset.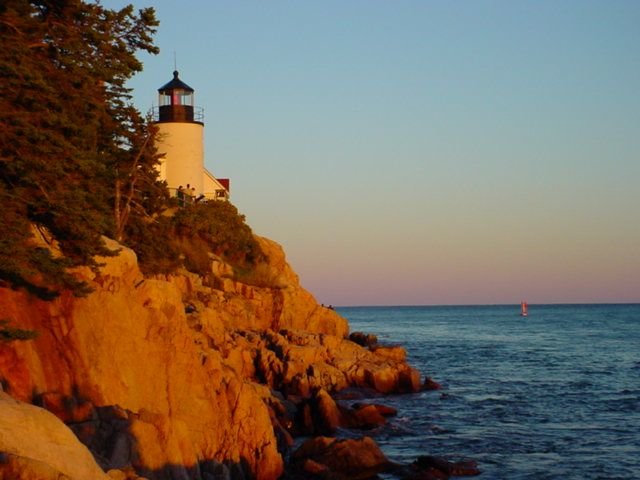 ---
Bookmark & Share
---
User Comments
Be the first to comment on this post below!