Halfmoon Reef Lighthouse
Thu, Jul 25, 2013 at 12:00AM
---
We're taking another trip to the great state of Texas, but this time we're visiting the Halfmoon Reef Lighthouse, a screw-pile type lighthouse. Several screw-pile lighthouses were built along the coast of Texas to mark reefs and channels, but the Halfmoon Reef Light is the only one still standing!
The Halfmoon Reef Lighthouse was built after the construction of the Matagorda Island Lighthouse in response to the requests of residents. It took four years for the iron pilings required to build the lighthouse to arrive, but construction eventually came to a close and the lighthouse was lit in 1858.
The lighthouse was darkened during the Civil War in order for Confederate soldiers to escape. It took three years to re-light the lighthouse after the end of the Civil War. The lighthouse was officially re-lit on February 20, 1868.
In the fall of 1875, the Texas coast was struck by a hurricane, and despite destroying two nearby lighthouses, the Halfmoon Reef Lighthouse escaped with only minor damage. The lighthouse was deactivated in 1886 after another hurricane that caused minor damage to its structure but the lighthouse board felt it was not worth repairing due to a decrease in area traffic.
The United States Coast Guard repaired the lighthouse in 1911, and then sold the lighthouse in 1942 after it was severely damaged in a storm. It's new owners relocated the lighthouse to Point Comfort for use as their companys' headquarters but turned over the lighthouse to the Calhoun County Historic Commission. The Halfmoon Reef Lighthouse became a Texas Historical Marker in 1985.
If you have visited the Halfmoon Reef Lighthouse before, share your stories and photos with us on our Monterey Boats Facebook page!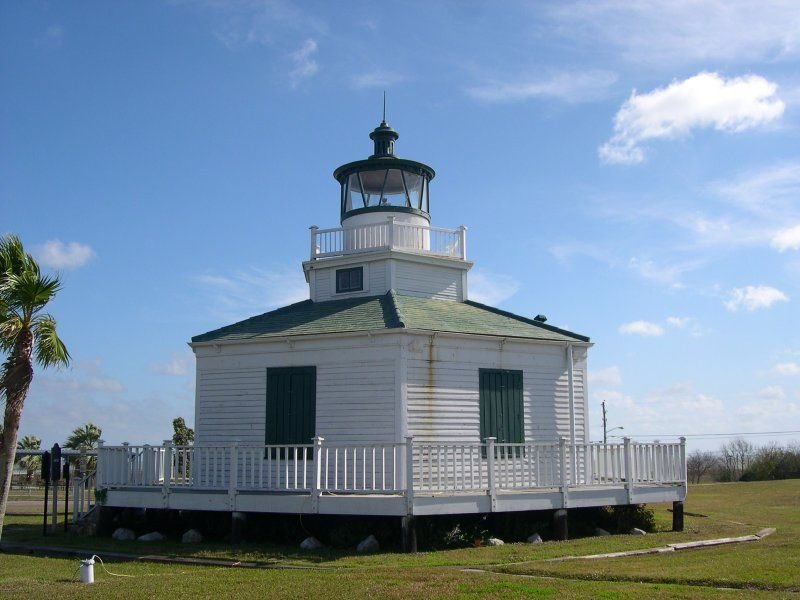 ---
Bookmark & Share
---
User Comments
Be the first to comment on this post below!