Grilled Fish Kabobs
Thu, Aug 22, 2013 at 12:00AM
---
Before summer time is up, and its time to send the kids back to school plan one last barbecue with grilled fish kebobs on the menu! The mild flavors of salmon, halibut and tuna mix wonderfully with garlic, butter and parsley. Instead of barbecuing at the house, fire up yours boats grill for a wonderful evening on the water!
Where are your favorite water destinations for grilling? Share them with us on our Monterey Boats Facebook page!
Kebobs:
Samon, 12 Oz
Halibut, 12 Oz
Tuna, 12 Oz
Olive OIl, ½ C
Garlic Cloves, 3
Parlsey, 1 C (Chopped)
Thyme, 3 Tbs
Kosher Salt, 1 Tsp
Black Pepper, ½ Tsp
Butter:
Butter, 1 Stick
Garlic Cloves, 4
Parsley, 2 Tbs
Kosher Salt, Black Pepper
Wooden Skewers
Directions:
Cut fish into about 20 cubes and place into a Ziploc bag. Combine olive oil, lemon juice, lemon zest, garlic, parsley, thyme, pepper and salt. Pour mixture over fish and seal in Ziploc bag, place into refrigerator for thirty minutes, then skewer fish onto skewers, alternate fish.
Butter: Combine butter, parsley, and garlic. Season fish with salt and pepper. Pour butter into plastic wrap, fold and create a log shape, place into refrigerator and let sit for 1 hour. Remove and slice into ½ inch slices, place on plate.
Heat grill pan on medium-high, or turn grill on. Season fish with salt and pepper before cooking, grill for three to four minutes each side.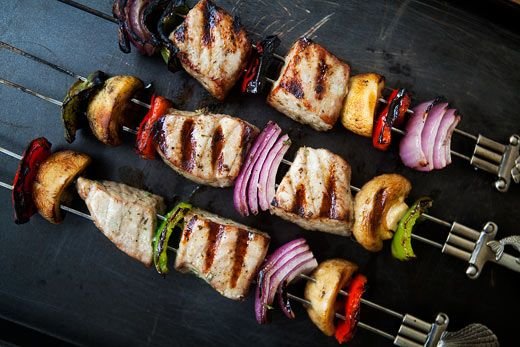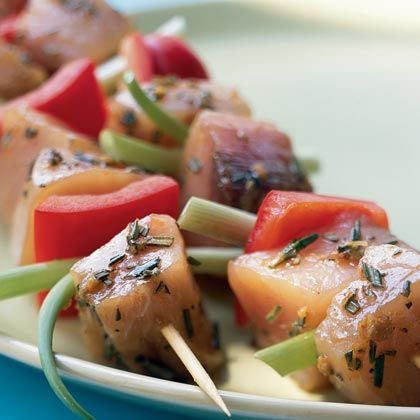 ---
Bookmark & Share
---
User Comments
Be the first to comment on this post below!