Delicous Pan-Grilled Snapper
Mon, Sep 17, 2012 at 12:00AM
---
Would you like to have a healthy dinner prepared in just 15-minutes? Well, we would too! Today we're serving up Pan-Grilled Snapper with Orzo Pasta Salad from Cooking Light. You're just 15-minutes from having a delicious dinner on the table!
Ingredients
Orzo, 1 ½ C (Uncooked)
Olive OIl Cooking Spray
Red Snapper Fillets (4- 6 Oz fillets)
Salt, ½ Tsp
Pepper, ¼ Tsp
Shallots, minced 1 ½ Tbs
Parsley, fresh, 1 Tbs
Lemon Juice, 1 Tbs
Orange Juice, 2 Tsps
Dijon Mustard, 1 Tsp
Olive Oil, 2 ½ Tbs
Directions
Prepare pasta as directed on package, do not add ingredients with sodium or fat. Drain, keep warm.
Pre-heat an average size grill pan on medium-high, and coat with olive oil based cooking spray. Season fish with one-quarter teaspoon of salt, and one-eighth teaspoon pepper, and add fish to pan. Cook fillets for 3-minutes each side, or until flakey.
Mix remaining salt, and pepper with the shallots, lemon juice, parsley, orange juice, and mustard in a small bowl. Make sure mixture is thoroughly mixed. Gradually stir in olive oil, and combine using a whisk. Lightly pour mixture over pasta, and serve.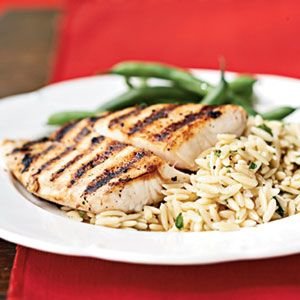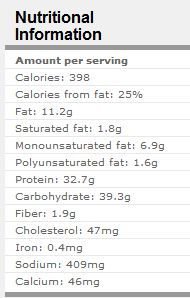 ---
Bookmark & Share
---
User Comments
Be the first to comment on this post below!