Grilled Sea Scallop Skewers
Mon, Oct 28, 2013 at 12:00AM
---
We have found the perfect recipe, Grilled Sea Scallop Skewers with Creamy Hot Pepper and Garlic Vinaigrette with Toasted Breadcrumbs. They are super easy to make, and packed with flavor! For presentation purposes serve over a bed of baby spinach.
We're willing to bet there will not be any leftovers!!
If you have your own scallop recipe you would like to share with other fans and Monterey Boats owners, visit us on Facebook!
Ingredients:
Condiments-
Mayo, ½ Cup

Dijon Mustard, 2 tablespoons

Red Wine Vinegar, 3 tablespoons

Lemon Juice, 2 tablespoons ( Fresh, or pre-packaged)

Olive Oil, 4 tablespoons
Spices and Herbs-
Parsley, 3 tablespoons, flat-leaf and finely chopped

Thyme, 2 teaspoons (fresh)

Hot Cherry Peppers, ¼ cup, chopped

Fresh Ground Black Pepper

Salt

Lemon Zest, 1 teaspoon
Other-
White Bread, 4 slices, remove crust, process finely

Sea Scallops, Large, 16 to 20 (Pat dry)

Wooden Skewers, 6, soak in water
Directions:
Combine mayo, vinegar, cherry peppers, parsley (2 tablespoons), mustard, olive oil (2 tablespoons), lemon juice, thyme and garlic in blender. Create a smooth puree, use salt and pepper to season.

Using a medium saute pan, heat 2 tablespoons olive oil on high, and add breadcrumbs. Cook until light brown in color and remove from heat. Stir in leftover parsley and zest of lemon. Again, use salt and pepper to season.

Preheat grill to high.

Pierce 2 to 3 scallops on 2 skewers, this will help them lay flat. Brush scallops with oil, season with salt and pepper. Flip scallops once they are caramelized, it will take about 3 minutes, cook for another 30 seconds. Remove from grill and place onto dish, drizzle with vinaigrette mixture, and sprinkle breadcrumbs.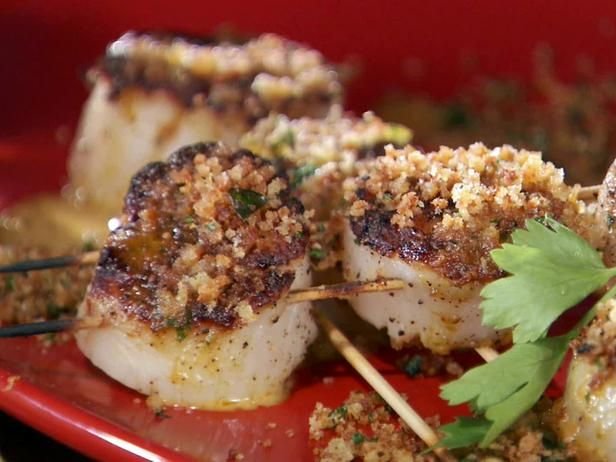 ---
Bookmark & Share
---
User Comments
Be the first to comment on this post below!