Famous Shipwrecks: Adelaide Baker
Mon, Jul 16, 2012 at 12:00AM
---
Scuba divers and snorkelers frequently visit reef eco systems filled with some of the most beautiful marine life our oceans have to offer, but why not kick it up a notch and check out a few shipwrecks? There are many shipwrecks open for public scuba diving and snorkeling excursions, many of them featuring extensive reef ecosystems amongst their wreckage.
It's time to load up your Monterey and follow us to the Florida Keys as we explore Key West's most historical shipwrecks along their famous Shipwreck Trail!
Key West was known for having over 100 ships per day pass through their waters before the railroads took control of trade transportation. The Key West waters were known for being incredibly dangerous. There was said to be at least one ship wreck per week along the Key West coast. In order to combat the problem the town built an observation tower, manned by watchmen who would shout "wreck ashore" whenever a wreck was spotted. The watchmen developed a hierarchy system where the first man to reach the wreck would become the "wrecking master" of the mission. Salvaged goods were sold at wreckage courts that functioned similar to an auction. The wreckers could earn up to 50 percent of the profit, depending on the conditions of the salvage mission.
The Adelaide Baker, built in 1863 in the town of Bangor, Maine was originally known as the F.W. Carver but renamed the Adelaide Baker by the British when they purchased her. She had a beautiful double-decked hull made from oak and hackmatack but was covered with copper in 1865—just two years after her debut.
On January 28, 1889 she was laid to rest in a watery grave when she wrecked on "Coffins Patches" Reef on her way to Savannah Georgia with a load of timber. The reef bears an irregular marking of granite ballast from where she first made contact with its edge. The reef had created a puncture in her hull causing her to spill the ballast. Luckily, mariners in the area were able to rescue the captain and the crew—bringing everyone to safety as well as salvage some of her cargo.
Archaeologists have divided her wreckage into two clusters: Cluster A and Cluster B. Cluster A is believed to be the ships initial wrecking point and consists mainly of her iron holding and deck-hanging-beams. The lower portions of the Adelaide Baker's mast and water tank rest nearby Cluster A. Her 77 foot long, iron mast is the main attraction of Cluster B. This cluster also consists of a bilge pump, knee-riders, iron deck bit, hawse-hole frames, and miscellaneous rigging along with various tackle parts. Cluster B is thought to have been created by the wrecks earliest salvors.
The ship rests in just 20 feet of water and is located four miles south-southeast of Duck Key. Her wreckage spans over a square quarter-mile, a distance of about 1,400 feet. The visibility of the Adelaide Baker's wreckage is typically very good, making this an excellent novice snorkeling spot. The wreckage has a heavy population of: grouper, porkfish, nurse sharks, barracuda, yellow tail snapper, moray eels, spiny lobster, sponges, parrot fish, angelfish, blue tangs and sea fans.
Divers and snorkelers can also check out an additional two mast section, rigging pile and the ships second water box.
Next time, we will explore the wreckage site of the San Pedro.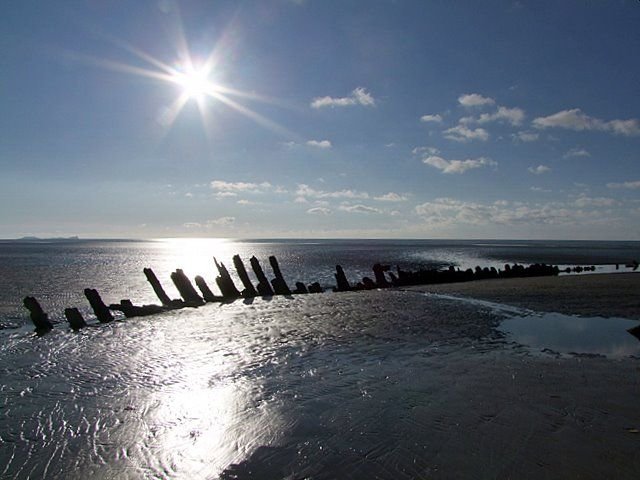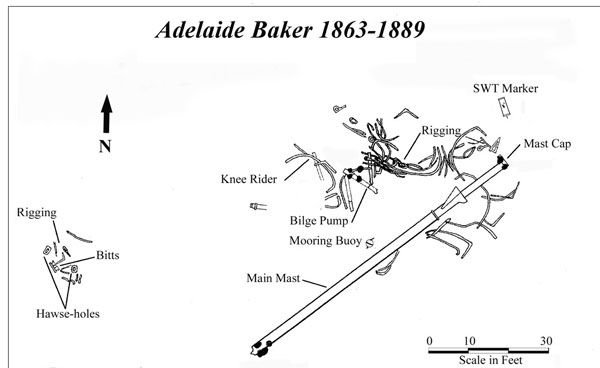 ---
Bookmark & Share
---
User Comments
Be the first to comment on this post below!