Famous Shipwrecks: The San Pedro
Mon, Jul 30, 2012 at 12:00AM
---
Our next stop on Key West's Shipwreck Trail explores the oldest of the shipwrecks: The San Pedro
In 1733 a Spanish treasure fleet was caught in the midst of a hurricane along the Straits of Florida. The hurricane claimed the San Pedro along with the majority of the Spanish fleet. The San Pedro sunk in just 18 feet of water.
The San Pedro was one of many sturdy, 287-ton Dutch constructed ships under the command of Rodrigo de Torres traveling from Havana, Cuba, on Friday, July 13, 1733, towards Spain. The fleet held an impressive 16,000 pesos in Mexican silver as well as an abundant amount of Chinese porcelain.
It was a smooth journey until the 15th of July when the fleet entered the Straits of Florida where a hurricane had been stirring the waters with its brute wind force. Captain Rodrigo de Torres ordered the fleet back to Cuba but the attempt was unsuccessful. The hurricane left only 4-salvagable ships, sinking the remainder of the Spanish fleet. Thankfully the wreckages did leave many survivors.
The remaining wreckage of the San Pedro was not discovered until the 1960s. The majority of the wreckage had been salvaged by the Spanish in 1733. However modern day salvagers were able to recover the remainder of the wreckage which consisted of silver coins dating between 1731 and 1733, sporadic pieces of rigging and hardware along with various elements of her cargo.
The wreckage of the Spanish fleet spans over an area of about 80 miles. Archaeologists have been able to pinpoint the initial wrecking point of the San Pedro due to a large pile of ballast and dense stones from European river beds available on the ocean floor. These elements were commonly amassed in the lower hulls of the ships to increase stability.
The San Pedro was honored as the second site in the State of Florida Underwater Archaeological Preserve in 1989. The preservation society placed a 1733 anchor from another shipwreck, replica cannons and a bronze plaque to denote the wreckage.
Now that you know a little bit more about the San Pedro, it's time to hop on your Monterey! Remember to bring an underwater camera to snap some pictures to share with our Facebook. Who knows, you may even discover a few forgotten Spanish treasures!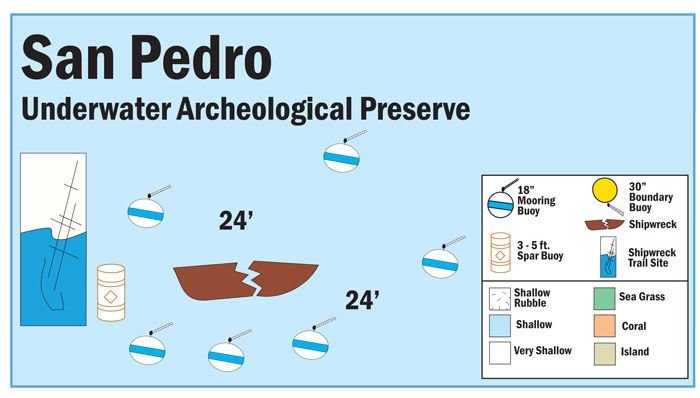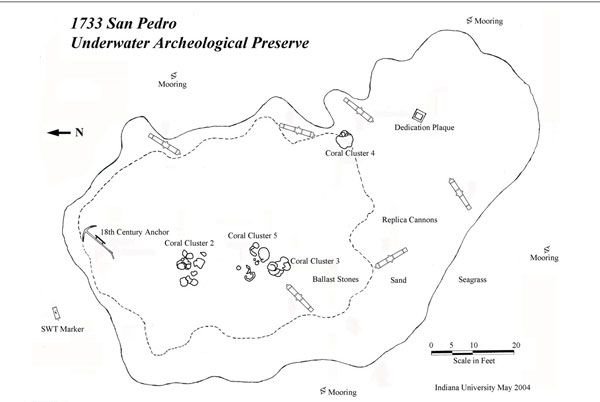 ---
Bookmark & Share
---
User Comments
Be the first to comment on this post below!