A Quick Tour of the Cape Florida Lighthouse
Thu, Jan 30, 2014 at 12:00AM
---
We're traveling back to the Florida Keys this week to tour the Cape Florida Lighthouse in Key Biscayne, Florida. The history of the Cape Florida Lighthouse begins in 1825, when it was constructed to guide ships around the Florida Reef and into Key Biscayne. Keep reading today's blog to learn more about this great Florida lighthouse.
Construction on the 65-foot, Cape Florida Light was completed in 1825 just before the Second Seminole War. The Seminole tribe attacked the lighthouse keeper, William Cooley and his family, killing them all. After their death, the assistant keeper, John Thompson was put in charge and was assisted by a local slave, Aaron Carter. The lighthouse was attacked on July 23, 1836 by the Seminole indian tribe. The attack started a fire in the bottom of the tower, ammo from their guns struck the lighthouse's lamps and spilt oil everywhere, sparking the fires initial flames.
Construction on a new lighthouse began in 1846 and was completed and re-lit in April 1847. The new lighthouse contained 17 Argand lamps with 21-inch reflectors. A new keeper, Reason Duke, was appointed to the lighthouse. He served until 1852, when Temple Pent was appointed. Pent was later replaced in 1852 by Robert R. Fletcher, who was eventually replaced by Charles S. Barron in 1855.
The lighthouse changed hands many times until it was decommissioned 1878. The United States Coast Guard built a screw-pile lighthouse seven miles southeast to replace the Cape Florida Lighthouse.
During its decommissioned time, the United States Secretary of the Treasury leased the lighthouse to the Biscayne Bay Yacht Club. It was used as the club's headquarters until the club moved to Coconut Grove. Today the lighthouse is available to the public for tours and is part of the Bill Baggs Cape Florida State Park. If you have toured the lighthouse before, share pictures with us on Facebook!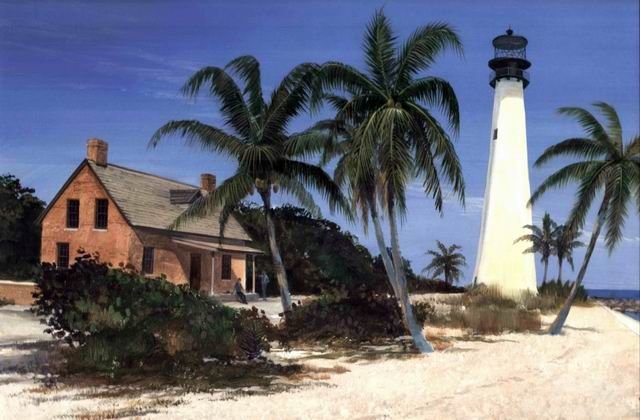 ---
Bookmark & Share
---
User Comments
Be the first to comment on this post below!