Turning Your Monterey Sport Yacht into a Home
Mon, Jun 02, 2014 at 12:00AM
---
You already know your boat is an extension of your home—it's where you spend your weekends and strive to keep a peaceful atmosphere, where your family loves to relax and you get some much-needed relaxation. Why not make it look like home, too?
Decorating the interior of your boat can seem daunting; with only so much wall space and minimal furniture, there isn't as much to work with as you'd find in your home living room. But if you put some thought into it, less really can be more!
Use your boat's preexisting décor as a starting-off point. The neutral leather upholstery and teak-style flooring that come standard in Monterey Sport Yachts blend well with any color scheme or design—some classic favorites are nautical navy-and-white or warm, homey accents of red and brown, but don't take our word for it. Play around with what colors you like best, or carry over the theme from your own home! These pops of color work well on seat cushions or throw blankets.
To add some more character to your boat, bring in the small knick-knacks you're used to seeing at home: a vase and a few books to create an offshore coffee table, for example, and photos or paintings for your wall. Don't stress out about the hardware—damage-free mounting supplies like Command hooks and picture strips can hold up artwork without leaving a mark on your boat's interior.
Designing a home away from home doesn't have to be a painful process; if you have a creative overhaul planned for this summer, use the ideas and designs of your own house to discover what looks best out on the water.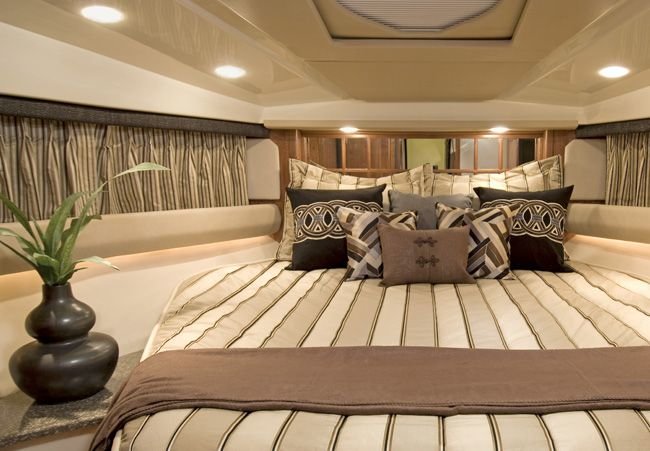 ---
Bookmark & Share
---
User Comments
Be the first to comment on this post below!