The Eagle
Mon, Mar 18, 2013 at 12:00AM
---
Three miles northeast of Alligator Reef Light in the Florida Keys rests the Eagle. It was originally intended to sink the ship next to the Alexander Barge, but she broke away on December 18, 1985 in the middle of the night. There was concern that the ship would continue to drift so they dropped her port anchor and allowed her to sink in 100 feet of water.
The Eagle was launched in December 1962 as the Raila Dan at a port in Werf-Gorinchem, Holland. She was initially built as a conventional hull freighter. The ship went through seven name changes and several owners prior to being named the Eagle.
She unfortunately caught fire on October 6, 1985, sailing from Miami to Venezuela. Two cutters from the United States Coast Guard responded to the emergency but it was too late, the ship's superstructure had already been destroyed. The ship was purchased by the Florida Keys Artificial Reef Association for $30,000, an additional $20,000 from Joe Teitelbaum was used to create the reef.
Before the ship could be sunk, she was cleaned and gutted of all wooden fixtures, and access oil was removed in order to protect the surrounding marine environment. The Eagle was renamed the Eagle Tire Company.
The Eagle Tire Company is one of the more interesting shipwrecks to explore on Shipwreck Trail in the Florida Keys. Divers are able to observe damage caused to her stern from the fire in 1985. Additionally, the Eagle was broken in half by Hurricane George in 1998.
Have you explored the Eagle Tire Company in the Florida Keys? If you have, tell us about your adventure in our comments section or on our Monterey Boats Facebook!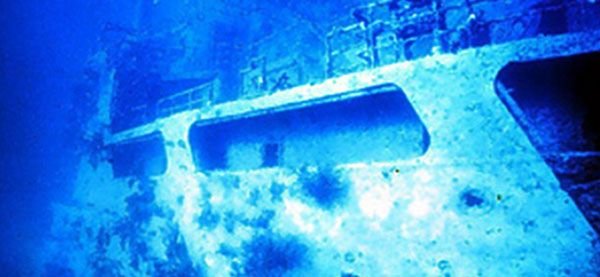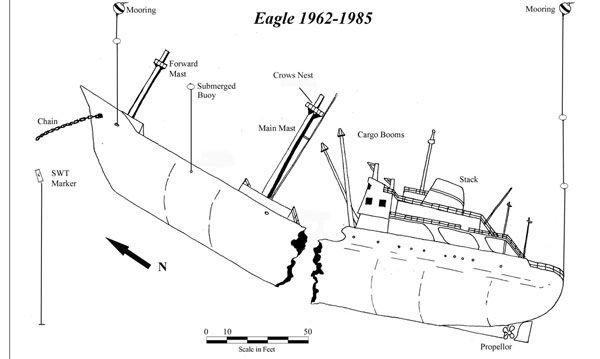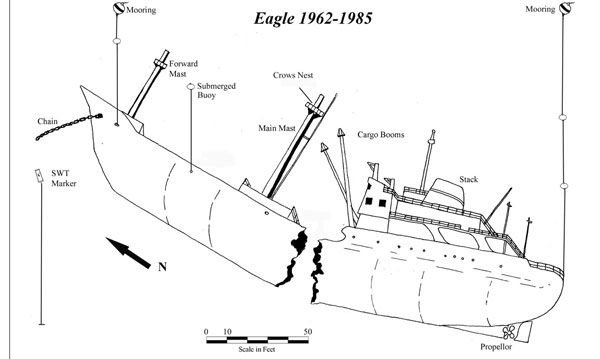 ---
Bookmark & Share
---
User Comments
Be the first to comment on this post below!