Onboard the HMS Victory
Wed, Jan 08, 2014 at 12:00AM
---
The HMS Victory is one of the most famous ships ever built but also one of the largest wooden warships built to date. The British government restored the ship in 1922 so that it could be used as a floating muesum in Portsmouth, England. Today, the HMS Victory is one of the oldest floating ships in the world. Continue reading today's blog to learn more about the HMS Victory!
Even though she was used in several battles against the French and Spanish during the 18th and 19th Centuries, the HMS Victory earned her fame in 1805 at the Battle of Trafalgar. Her Captain, Lord Nelson was lost during the battle but together they saved England from a French and Spanish invasion.
The Battle of Trafalagar was fought between the British, the French and the Spanish. The French and Spanish fleets were fast approaching the British shore on October 21st. Nelson acted quickly inorder to prevent an invasion. He ordered his fleet to allign into two columns and approach the French ships, the Bucentaure and Redoutable. The HMS Victory and her crew were joined by the HMS Temeraire and together the two ships defeated French and Spanish forces. During the attack, a musket ball entered Nelson's left shoulder and killed him.
The ship was salvaged just after the Napoleonic Wars by the First Sea Lord's passionate wife. He donated the ship to a nearby training school. The HMS Victory was used by the training school for the next century. The British government decided to restore the ship in 1922 and reopened it as a museum.
If you have toured the HMS Victory, share your stories and pictures with us on Facebook.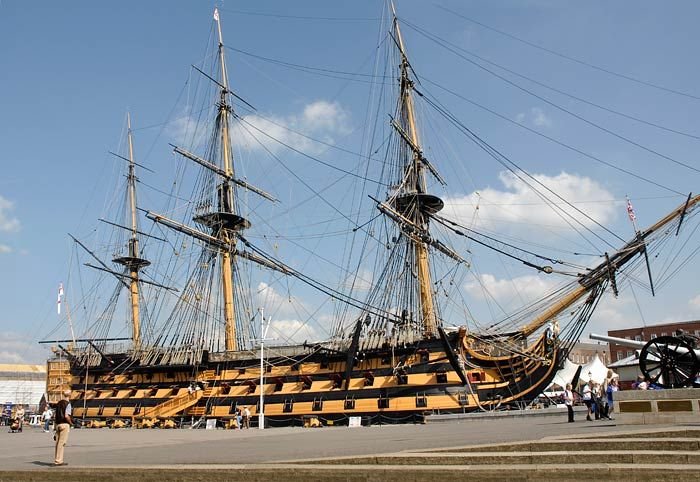 ---
Bookmark & Share
---
User Comments
Be the first to comment on this post below!