Monterey Boats Wins Best Boat Display at 2014 Chicago Boat Show!
Mon, Jan 27, 2014 at 12:00AM
---
MONTEREY BOATS WINS BEST BOAT DISPLAY AT CHICAGO BOAT SHOW!
Williston, FL-Monterey Boats is pleased to announce that it has won the Best Boat Display award at the 2014 Progressive Chicago Sports & RV Show for the 2nd consecutive year in a row. The display was judged based on use of space, appeal of display, promoting the boating lifestyle and enhancing the customer experience.
The Monterey booth was set up and manned by three dealerships from the surrounding area, which consisted of Gage Marine, Munson Marine and Waterwerks Marine Group. According to Dennis Radcliff, Monterey Boats Mid-West Regional Manager, "Our local network of dealers did an outstanding job, and as a direct result we sold several units, and obtained well over 100 potential leads for potential cruiser units". The attendance for the Chicago Boat show was great and traffic throughout the Monterey booth was substantial. Monterey is honored to have such amazing dealers like Gage Marine, Munson Marine, and Waterwerks Marine Group.
"At Monterey Boats, we always strive to demonstrate the exceptional products, service and lifestyle that we offer to customers. Our boat show displays embody this approach and enables visitors to see and feel the premium allure of our brand," said Martin Rusin, Monterey Boats Marketing Manager. "This award is a testament to both Monterey Boats and their dealers' efforts in bringing to life the best sales atmosphere and owner experience possible."

ABOUT MONTEREY BOATS
Monterey Boats, a leading independent boat manufacturer, has specialized in building premier quality sport boats, super sports, cruisers and sport yachts. Monterey's current line features 26 models ranging from 18' to 41', including our exciting new outboard models. Monterey has a growing worldwide dealer/partner network, a dedicated staff of more than 500 skilled boat builders, and is an industry leader in designing and building superior stern-drive pleasure boats. In 25 years, Monterey has produced well over 35,000 boats and generated over one billion dollars in sales. Every Monterey boat is also NMMA certified and backed by its exclusive MVP Lifetime Limited Warranty to assure the ultimate in customer confidence and satisfaction.
For more information on Monterey Boats, visit www.montereyboats.com, or contact
Rene' Moore: phone 352-528-2628 Ext. 219 or email: Rene.Moore@Montereyboats.com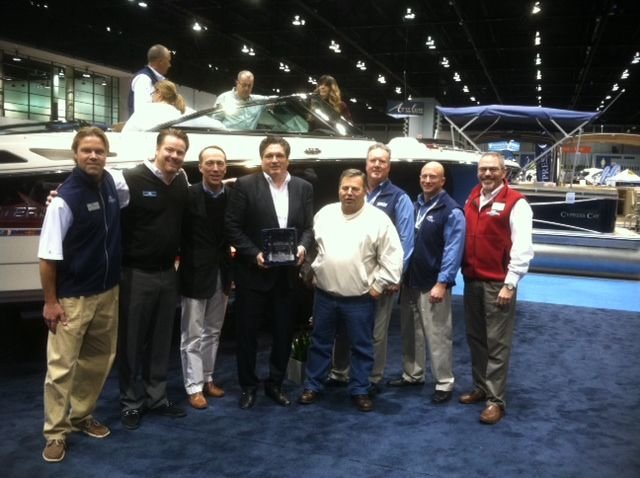 ---
Bookmark & Share
---
User Comments
Be the first to comment on this post below!