Monterey 288SS Boating Magazine Review
Mon, Sep 23, 2013 at 12:00AM
---
Monterey means "hill king" in Spanish, or "king of the hill." It's the name of one of California's most exotic coastal cities, and Baja California has named its Ciudad de Monterey Latin America's safest city. But we're talking about boats, so what's all this about?
Monterey's 288SS is one of the most exotic, even elegant, bowriders we've tested since Cobalt debuted the A28. The Florida boatbuilder has been on a tear to be king of the luxury-boat hill, and when we tested this boat on a choppy day offshore of Boca Raton, we were convinced by its secure dry ride that its efforts were not misplaced.
Seas were a solid 2½ feet with short intervals that would shake the engine bolts off of most boats, but in this one, I jotted notes — barely legible, but legible — while Mike Botti, Monterey's tech guy, piloted the big bowrider to top speed. Mike commented that I seemed pretty trusting of his skippering, sitting relaxed with pen poised over paper, eyes on the GPS and decibel meter. I remarked that he seemed competent, but in addition, the hull's crisp 21-degree deadrise cut the seas nicely and the Monterey eased over the crests without much pitch — and when we did "bark" the props, she re-entered softly. I was securely cradled on the passenger seat, which was way softer than a performance seat and more stylish too.
We had 380 horses at our command, with MerCruiser's 8.2-liter sterndrive under the sun pad and a Bravo Three drive turning the dual props. Sadly, our test boat was overpropped and topped out at just 4,500 rpm, averaging 48 mph. When the 26-inch propset was later changed to a 24, Botti reported the 288 topped out at a horsepower maximizing 4,900 rpm and a top speed of 49 mph. Even though we didn't get to experience that added speed, we knew Monterey's design was on target as we left the sea and headed through the nasty inlet. Boca Raton means "mouth of the rat," and this narrow little passage has one of the trickiest currents on a tide of any along Florida's east coast. In fact, you may power through this inlet until you're just short of the residential docks inside. The power gives control and adds to safety. But even as we powered down in the lingering current, the 288 held its course, tracking truly as we came in. At the dock, a current swept along at 4 knots or better. Mike pointed the vessel into it and she laid up alongside sweetly.
The 288SS is going to be right at home any busy weekend on lakes like Lanier, Mead and Lake of the Ozarks, vying with Cobalt for the title of king of luxury boats.
It's no accident that Monterey has built contoured custom dash panels with leatherlike brows and contrasting stitching — a page from the A7's playbook, as is the swing-away passenger console with complimentary styling and a roomy head behind it. Entry to the head is spacious for a boat its size, and a granite look spices the fiberglass interior.
The 288's transom platform and walk-through are covered in nonskid gray-with-black-stripes SeaDek. The look is reminiscent of bleached teak and holly, crisp and clean. The platform is wide and features a boarding ladder that's easy to deploy from the water — a safety feature required for its NMMA certification. Cobalt beats Monterey here, though, with its patented transom step that swings into the water, offering up a chest-deep, two-person seat for relaxing or easier reboarding. It serves the dual purpose of adding a barrier between bare feet and the propset below.
Monterey's sun pad pops up into a rumble seat that's inarguably one of the most pleasant luxuries on board. Back inside, the aft lounge seat back also serves as a head bolster when the pad is flat for sunbathing. In fact, there are no unpadded flat surfaces in the 288SS, and each contoured upholstery feature is shaped for comfort and to complement the vessel's exterior lines and interior style. Adding to convertibility, the passenger seat back flips forward, completing an aft-facing lounge.
Forward seating is spacious too, and each lounge sports a swing-away armrest. Access to the area is through the windshield, and a wind dam is present to close the cockpit in inclement weather. There's a ton of storage easily accessed in the walk-through under the helm station.
I'd have to say that the 288SS is evidence that Monterey is making a try for king of the hill. Its weaponry is sharpened with elegant style and a luxury ride.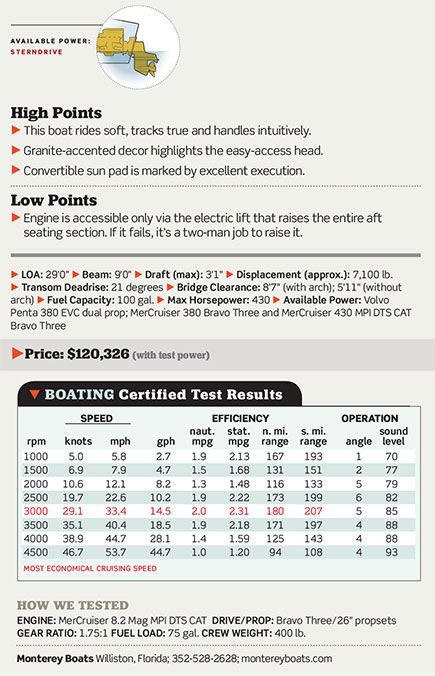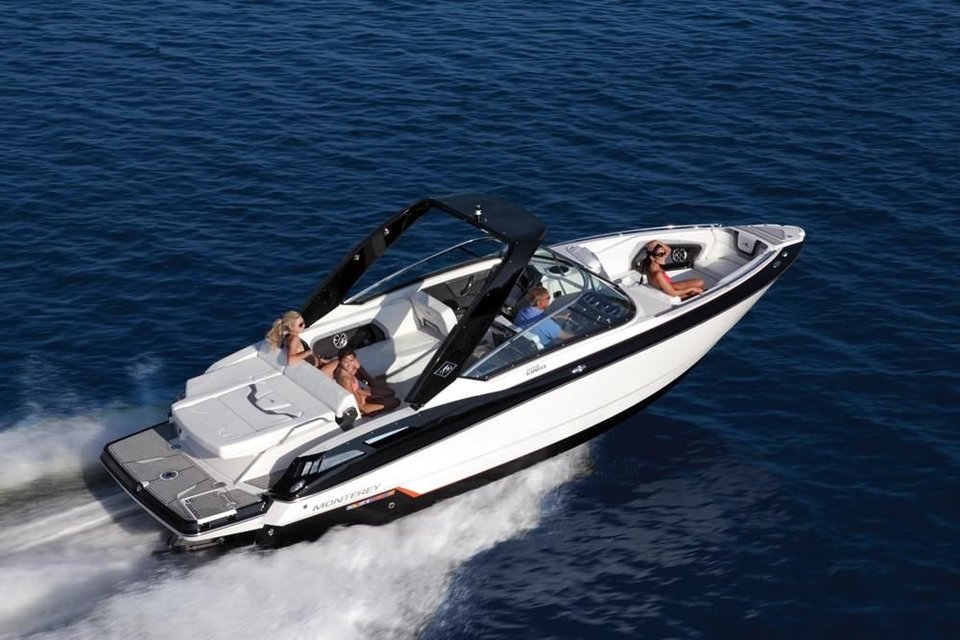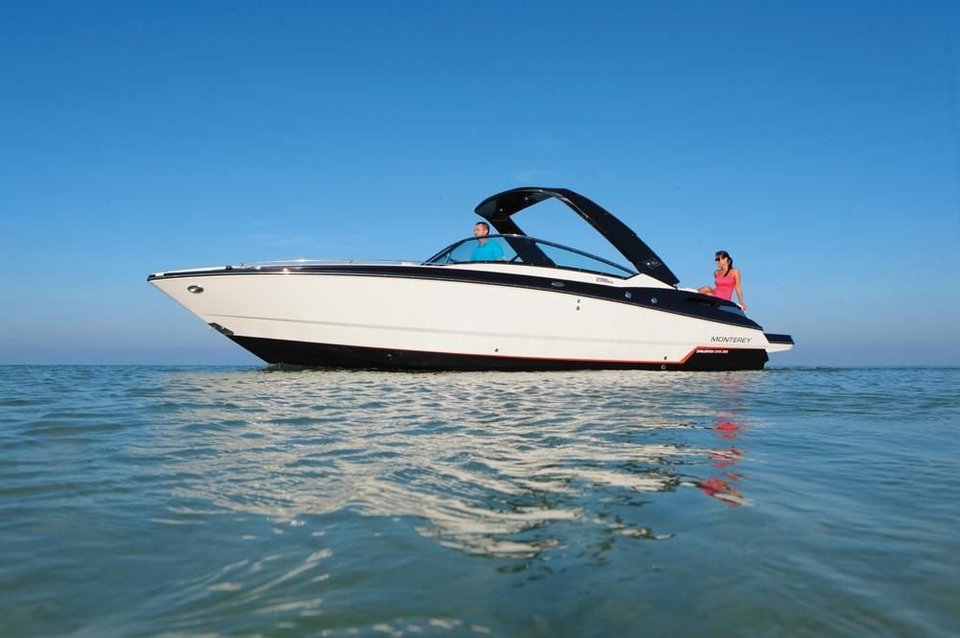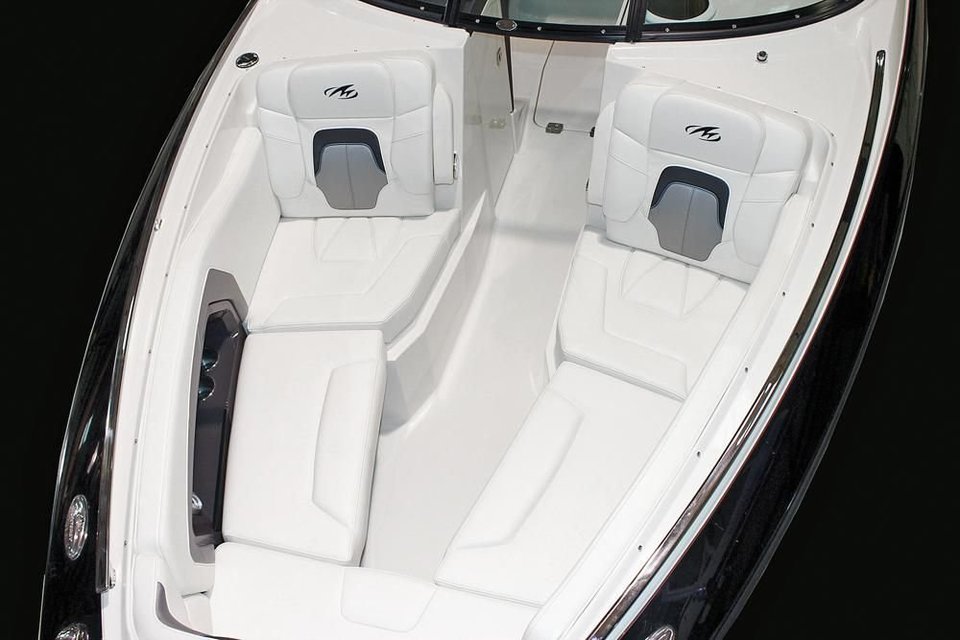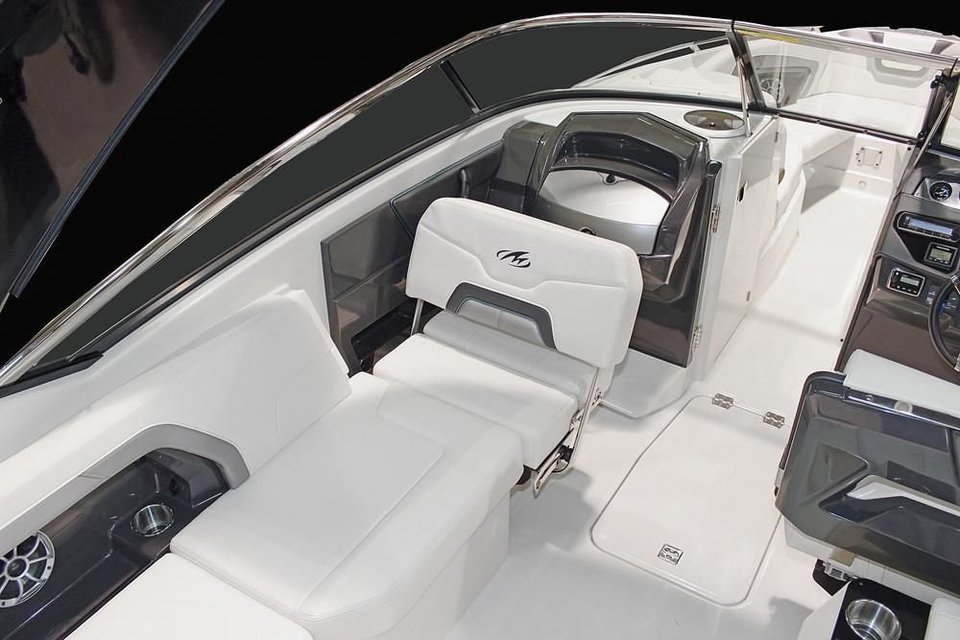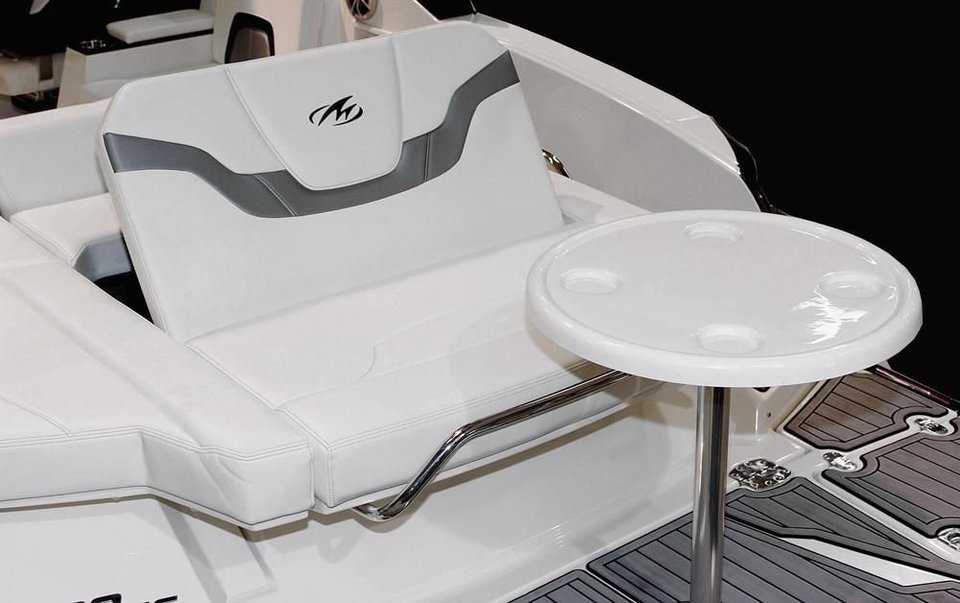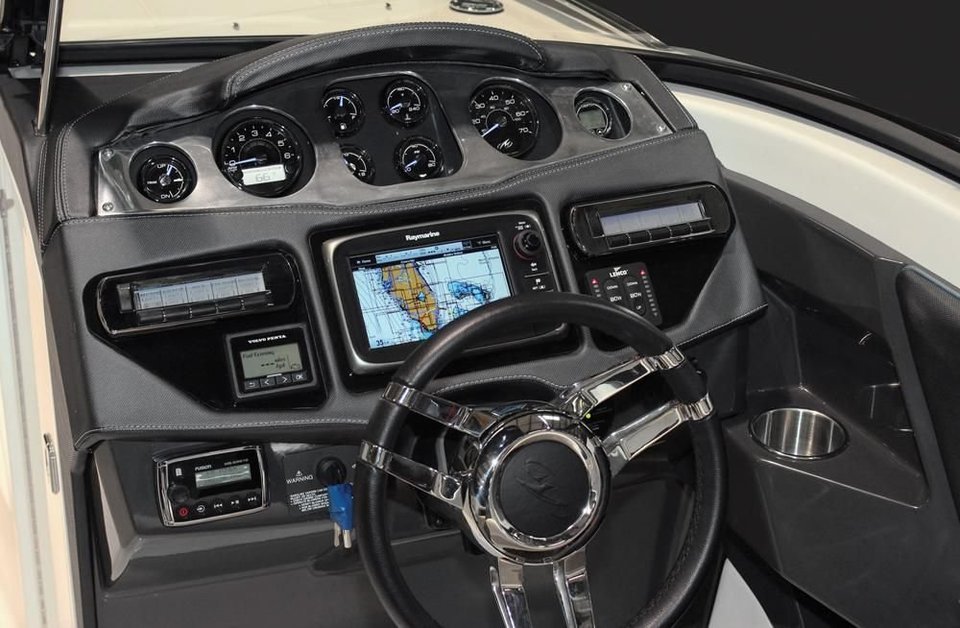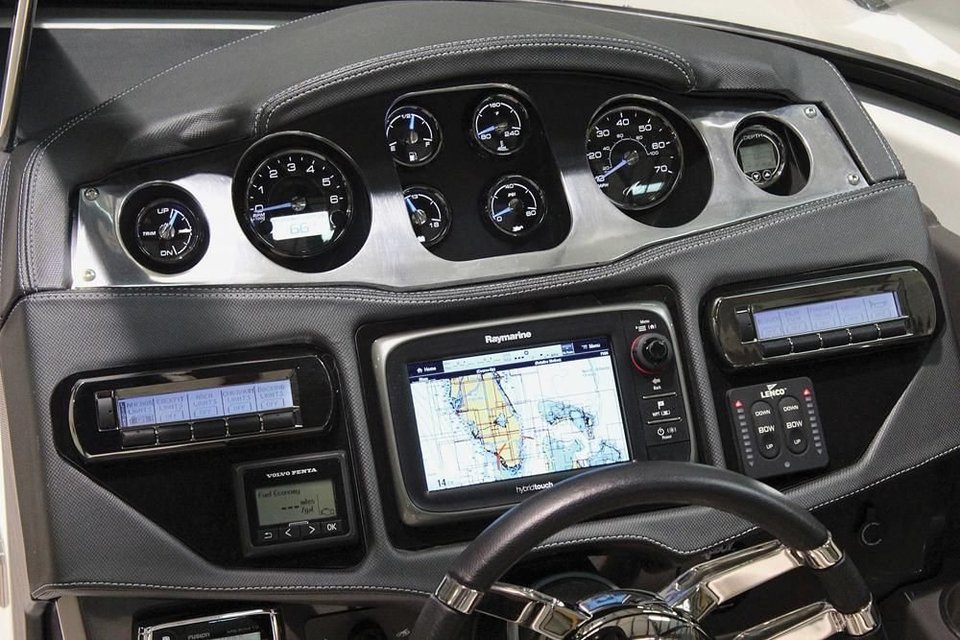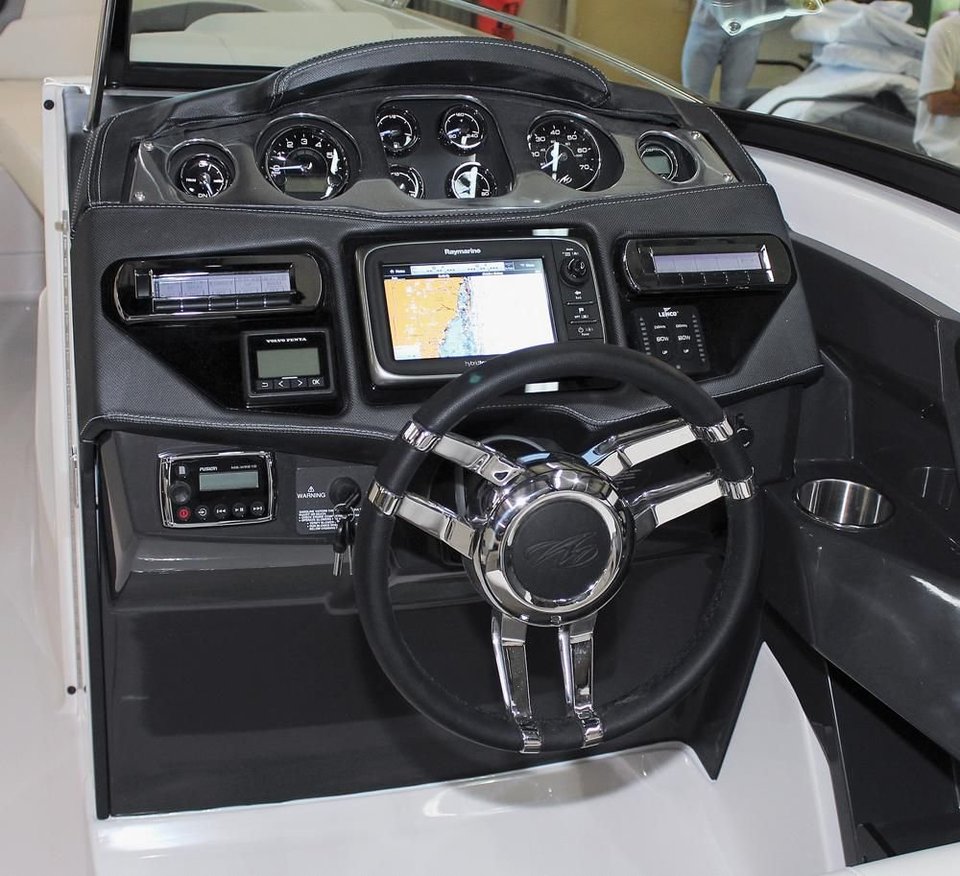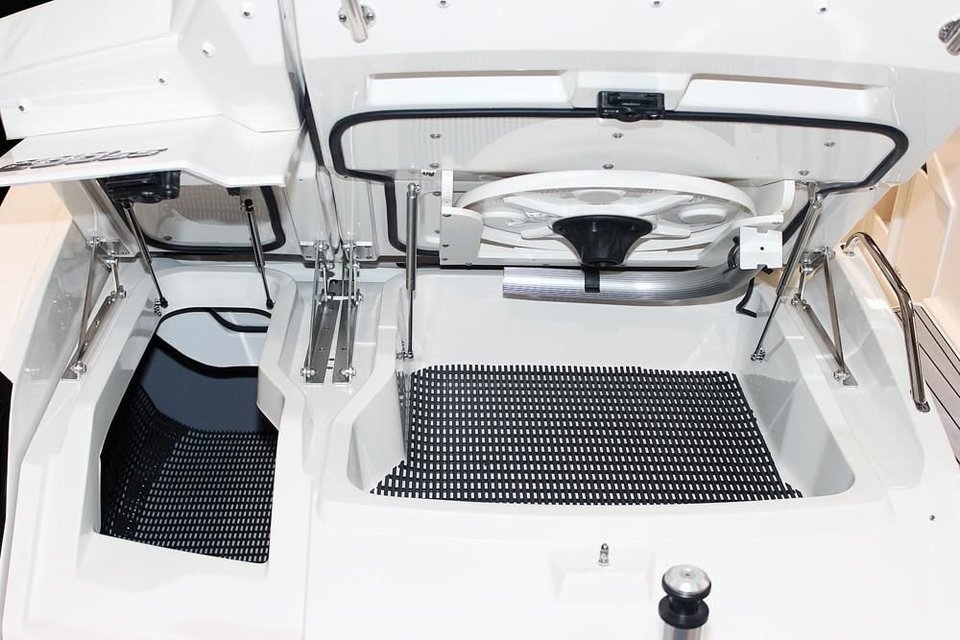 ---
Bookmark & Share
---
User Comments
Be the first to comment on this post below!