The Amesbury: A Nautical Piece of WWII
Mon, Sep 10, 2012 at 12:00AM
---
Today's blog explores the Amesbury, a famed World War II destroyer escort ship.
After its decommissioning, the Amesbury was sent to Florida, where it was sold for scrap metal in 1962 to Chet Alexander Marine Salvage of Key West. It was decided that the ship would be added to the Key West Shipwreck Trail to create a deep-water diving site. However the ship ran aground during its escort to deeper water.

The Amesbury is named after famed Lt. Stanton Amesbury who was killed in World War II combat on November 9, 1942. The United States commissioned the Amesbury in 1943 as an escort for destroyer ships, assigned to work with the Atlantic Convoy 7. The Amesbury is also known for her role in the invasion at Normandy.

She returned to the United States in August of 1944 where she was temporarily assigned to work with the Fleet Sonar School in Key West. The Amesbury was then sent to a Philadelphia Navy Yard to be rebuilt as a high-speed Navy transporter.
Once the transformation was complete she was assigned hull number APD-46. The Amesbury was outfitted with a five-inch turret gun and three twin mount forty-millimeter antiaircraft guns.

Now ready for action, the Amesbury sailed to the Pacific Ocean where she was used as support for the Underwater Demolition Team Twelve landings in China and Korea during 1945. When she returned to the United States, she was decommissioned and sent to Florida.

The ship rests in two sections that are 200 yards apart on the ocean floor. The bow and port side can be found in the southern section of the wreck while the northern section contains the stern and starboard side. The gun mount and antiaircraft gun are located fifty feet behind the stern of the bow on an elevated pedestal.
The Amesbury shipwreck site is not only a great dive site but also a perfect excursion for snorkelers. It offers excellent visibility due to its shallow resting place in 25 feet of water and an array of marine creatures.
We hope you have a great time exploring the Amesbury shipwreck on your Monterey Boat!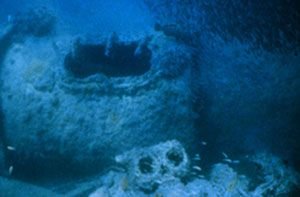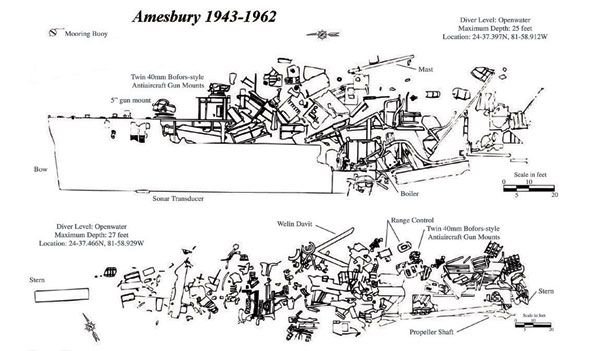 ---
Bookmark & Share
---
User Comments
Be the first to comment on this post below!