Customer Satisfaction Award Winner- 16 awards in 12 Years!
Mon, Feb 27, 2017 at 3:30PM
---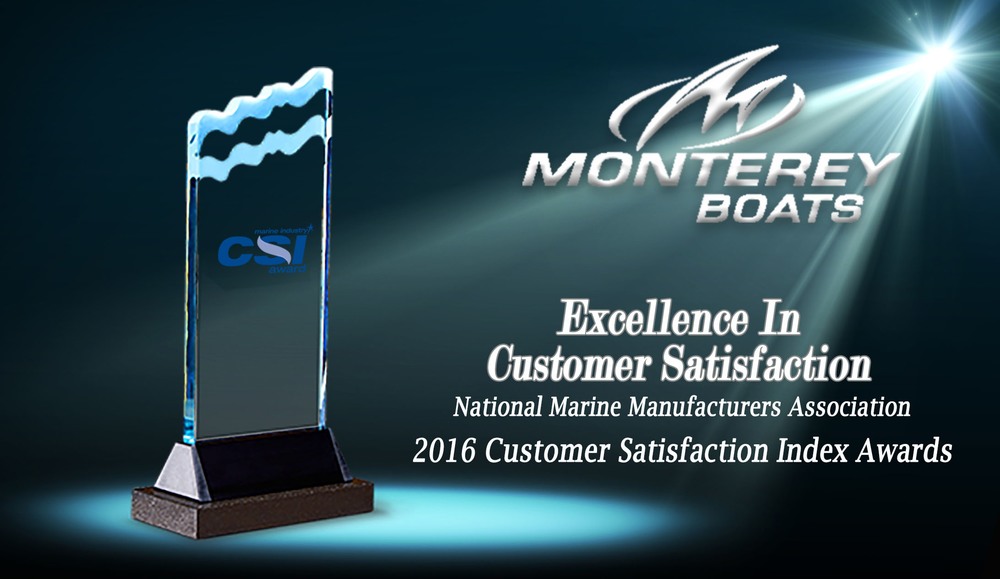 Williston, FL -- During the Innovation Breakfast on February 17th at the 2017 Progressive Insurance Miami International Boat Show, NMMA's Vice President of Engineering Standards, Robert Newsome, presented Monterey Boats with the 2016 Marine Industry Customer Satisfaction Index (CSI) Award for Excellence in Customer Satisfaction. Monterey Boats received the award for Excellence in Customer Satisfaction in the Sterndrive Cuddy and Express Cruiser category and the Sterndrive Bowrider boat category.
Attending the breakfast to receive the award, Sue Koehler, Customer Satisfaction Coordinator said "The NMMA CSI award is an honor that is given to Monterey Boats by our customers which makes it the most prestigious award in the industry."
Charles Marshall, Co-Founder had this to say, "Through hard work and dedication to create and deliver the most innovative and technologically advanced boats for both domestic and international markets, Monterey has become one of the most awarded builders in the industry. We will continue to strive to deliver a stand-alone product delivering the amenities and sophistication that our dealers and clients expect."
The Marine Industry CSI Award honors manufacturers that actively measure customer satisfaction and pursue continuous improvement to better serve the consumer. Award recipients achieved and maintained an independently-measured standard of excellence of 90 percent or higher in customer satisfaction over the past year, based on returned survey results provided by consumers purchasing a new boat during the period between April 1, 2016 and December 31, 2016.
Monterey Boats, a leading independent boat manufacturer, has a global presence with a reputation for luxury, style and sophistication. Known and respected the world over, they are the choice for the most discerning boating enthusiast. Over 500 highly skilled dedicated team members work tirelessly to hand craft unique models, ranging from 18' to 41'. Our outstanding workforce, combined with innovative technology, has kept us at the head of the class. Wherever your boating adventures take you, Monterey delivers superior models to choose from, each backed by a reputation second to none. Monterey is leading the way in state-of the art boat designs and production, and they're doing it all over the globe.
For more information on Monterey Boats, visit www.montereyboats.com, or contact Rene' Moore at 352-528-2628 Ext. 219 or email: Rene.Moore@Montereyboats.com
---
Bookmark & Share
---
User Comments
Be the first to comment on this post below!