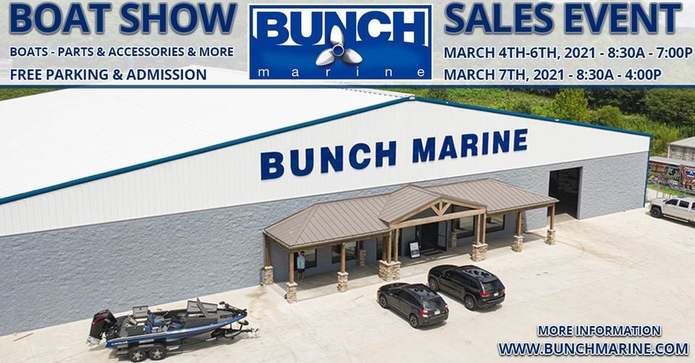 The folks at Bunch Marine have been hard at work getting the word out about their boat show!
They will be hosting some great deals on ALL of their in-stock boat inventory as well as special financing rates, and deals on ALL of their pro shop, parts, and accessories!
THEIR VENUE IS FREE!
PARKING IS FREE!
They will be welcoming the public for the kick off of their show starting at 8:30AM, Thursday - March 4th.
If you have any questions they would love to help you out! Get with them on Facebook at https://www.facebook.com/BunchMarine or give them a call at 865-376-7227.
WHAT: Bunch Marine Boat Show & Sales Event
WHEN: Thursday - Sunday - 8:30AM - 7PM & Sunday 8:30AM - 4PM
WHERE: Bunch Marine - Harriman, TN - Right off EXIT 350